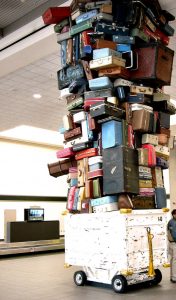 Whether you're storing items for a short time or looking for a long-term solution, stowing away your luggage safely is one way to free up space in your home. With the average household having two or more pieces of luggage per person, that's a lot of wasted space. So, if you're planning on storing your luggage out of the way or you have valuable items you want to contain safely, a storage unit might be your best bet.
Read on for how to store luggage safely in your storage unit when it's not in use:
Why invest in safe luggage storage at a storage unit?
While few storage units are invested in solely for storing luggage, these multi-purpose spaces are the ideal way to declutter your home and get big, bulky items out of the way. If you're running out of loft space or under-bed room to store your luggage, a storage unit is an ideal alternative for safe, convenient access as and when needed.
Empty or full: which is the best way to store your luggage?
Whether your luggage is best stored empty or full will depend on several factors. The first and most important is what kind of luggage you're storing. While hardshell suitcases and cabin bags will cope perfectly fine stored empty, you may find that softer luggage pieces benefit from being padded out. By filling out cases with bedding, towels, or other items, you can avoid loss of shape over time.
As for how you should be storing your luggage in the first place, it's always recommended to keep suitcases standing up instead of stacked on their side. If unavoidable, it's always best to fill suitcases before you stack them to prevent dents, crumples, and other damage, thanks to gravity doing its work.
Using luggage to store other items
Luggage is, by nature, a storage solution all of its own. Whether it's storing all your must-haves for your holiday or keeping clothing, decorations, and paperwork safe and sound. Using your luggage in your storage unit to protect other items makes them doubly as valuable. Luggage can also help prevent damage to breakable and valuable items when you move things in and out of your storage unit.
If you need to transport belongings from A to B, luggage is an easy and practical way to save on boxes and provide more stability for belongings. Whether you're looking to store luggage alone or with other items, Big Box Self Storage is the ideal fit for you. Book a unit online today or get a quote now.