The team at Big Box Self Storage Labrador welcome you as a new, current or previous customer. We look forward to being of assistance to you with your packing, moving and storage requirements.
Your enquiry will be welcomed by Shane Kennedy, Stuart McGrath, Phil Barton and James Beckett who make up the team that manage the Storage facility at Labrador. Their roles are varied throughout the operation of the storage facility with all tasks being handled in-house… From sales through to marketing, free trailer removals, free delivery of packing materials, receipt and despatch of our customers deliveries, debt collection, cleaning, maintaining the property gardens and buildings. There is never a dull moment with the upkeep of such a large storage facility. We pride ourselves on the presentation as we feel it represents the quality of our operation.
One of our most popular services is the supply of a free trailer service to move your goods from home and into storage.
We deliver the large enclosed trailer to your address where you then load the goods into the trailer. It also comes with a fridge trolley, pads and tie straps so it is like a small moving truck. You then call us to advise that you have finished loading the trailer and we come back to collect it. (We do all of the towing of the trailer). You then unload your goods into your storage space back here at the facility. This is a free move-in service!!! Another popular and unique service we offer is an "in-home" quotation. By viewing the goods you need to store we can work out exactly what size storage space you will need. A fantastic option which will save you $$$ by minimising the storage area required.
At the same time we can give you a price for one of our removalists to complete your move if our free trailer service is not suitable for you. It's your choice!!!
If you are a business person/operator and need to have a point of delivery for your stock and consignments, we can offer you our receipt and despatch service. This is where we can sign for your deliveries and then put them away for you. A great service that will free up your time so you can continue doing your business dealings!!
Big Box Self Storage Australia Pty Ltd
207 Brisbane Road
Labrador, QLD 4215
Australia
Big Box Self Storage Australia Pty Ltd 207 Brisbane Road Labrador, QLD 4215 Australia
Phone + 61 755376633
Fax + 61 755376561
Email labrador@bigboxselfstorage.com.au
Shane Kennedy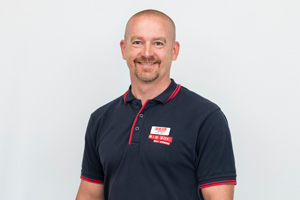 Stuart McGrath