Whether you're moving into a small apartment that doesn't have adequate space for all of your belongings, or you're moving interstate for a short period of time and need somewhere safe for your stuff in the meantime, there are many reasons to require a personal storage unit.
At Big Box Self Storage, we've compiled some of our top tips on how to store your personal belongings when you may need to access things easily at a moment's notice. Let's dive right in!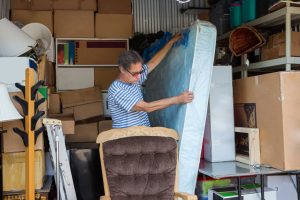 Don't overpack a box
Though it may be tempting to cram as much as you can into a box, this will never be helpful when it comes to retrieving your stuff – especially if you're only after a particular item. Instead, try to pack smart and categorise where possible, be this by room, function, or how often you think you'll use something.
Labelling is your best friend
If you think you'll be needing to access things on a regular basis, do your future self a favour and label what's in every box. This will make it far easier to spot where exactly what you need is, and not spend hours unpacking and repacking countless boxes.
Leave a clear pathway
You should always endeavour to leave your most frequently used items close to the door for ease of access; however, you should also strive to create a clear pathway around your storage unit so you can access all areas easily. Otherwise, you just know that items you need are stuck in an inaccessible corner.
Keep an inventory
There's nothing worse than spending a day searching for a particular item… only to suddenly remember that you didn't even pack it in self-storage, to begin with. Make and keep a detailed inventory list of everything in your storage unit, be it on your phone or a piece of paper stuck to the interior unit wall.
Consider drawing out a map
If you want to go a step further than writing an inventory, you could consider drawing out a map of your various boxes. This works best if you've kept to our aforementioned tip and categorised each box to suit your individual needs.
Use Big Box Self Storage
If you're looking for short and long-term self-storage Gold Coast locals can trust, look no further than Big Box Self Storage. We have a variety of clean and modern storage unit spaces for you to use as you see fit.