When you're moving items into storage, it can be difficult to know how to transport and organise your belongings. However, as experts in the field of self-storage, we know the best ways to move into storage units. Read on to find out more about how to move into self-storage and some key steps forward to make the moving-in process more efficient.
How do I move my items into storage?
The first step in the moving process is transitioning your items from your property over to the Big Box storage location on the Gold Coast. The most common method used in moving these items is through a removalist – our recommended list is here. These specialists will use a truck or lorry, transporting items from your property in a safe and secure manner and delivering them to the Big Box unit.
The alternative is completing this task yourself, which can be hard work and more stressful, and trusting you can transport it all safely. This is less advisable as you lose the protection of specialist packaging and storage options this way.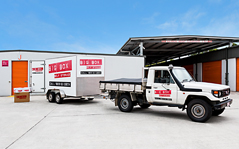 As mentioned, most customers use a removalist, a truck, or a car to move their possessions into storage, but once you arrive at our storage facility we offer complimentary trolleys and professional advice to help make storing easier. Also please ask about our free move-in service.
How do I move into storage?
Once you make it to the storage facility, you are well-positioned to move all of your items in. Big Box offers helpful moving in services and items, including complimentary trolleys and professional advice, for moving all of your items in a safe manner. After all, we have years of experience in moving and storing items and can offer you advice on how to get all of your valuables inside the unit without damage.
In addition to providing simple storage and packing tips, we offer comprehensive support throughout the entire process. Keeping your goods as safe and secure as possible is our goal, and we strive to make sure that all of your possessions are well looked after at Big Box Storage.
How do I get started?
If you're interested in booking a storage unit in Labrador, get in touch with our expert team today. We offer a range of quality storage services, providing the highest levels of safety and security for all of your possessions. Talk to our team to find out more and learn what we can do for you and your items.