You've got an exciting new job overseas somewhere other than sunny Aus – brilliant! You're ready for a change and the opportunity that this brings. But what about all of the stuff you can't bring with you?
That's where personal storage comes in! Self-storage is a great option for storing all of your bits and bobs that you can't take with you overseas, as well as any larger items not needed in your new accommodation. We've rounded up some of the best tips for storing personal belongings on a bespoke basis, ensuring security, cleanliness, and good organisation to make your return decluttering easier.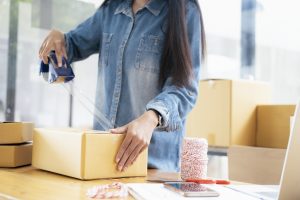 Preparing your belongings before storage
Optimal self-storage in a unit starts before you move all your items. Below are some important tips to keep in mind as you prepare your belongings to be moved into a storage unit.
Choose the right storage materials
Whether it's cardboard boxes for household items, vacuum-sealed bags for clothing and bedding, or plastic tubs for delicate antiques and heirlooms, choosing appropriate packaging is doing half of the work before you even start packing. Whatever you choose, make sure it's sturdy, strong, and easily stackable. You should also have tape, permanent markers, labels, and a bulking material such as packing peanuts or bubble wrap.
Pack methodically, not randomly
Especially if you're in a rush, packing haphazardly may seem like it has no consequences. But you should never just throw your items into a box without consideration. Pack your heavier items at the bottom of a box or bag to prevent them from damaging lighter items. Don't try to overpack – sourcing more cardboard boxes is easy but replacing belongings that have fallen out of the bottom of a box is not.
Label, label, label
Trust us – there will be nothing worse than returning home after your overseas stint and trying to return to normality, but remembering you have no idea what's in any of the boxes. Need your spare bedding to sleep in your own bed again? It could be in any of the twenty boxes you packed up more than a year ago! Label every box with its contents as detailed as you can. Your future self will thank you.
Storing your items
When it comes to finally fill up your self-storage unit, there are some things to remember. Here's a quick round-up of storage tips for optimal security and cleanliness.
– Pack heavier items around the walls of your unit ensures you can move the majority of your belongings quickly should you need to.
– Utilise dust sheets over your belongings to ensure dust doesn't gather in and on your belongings.
– Use height as well as width to optimise your space effectively.
– Don't underestimate small spaces; they're ideal for keeping valuable belongings safe.
– Store your frequently used items close to the entrance so you can access them easily upon your return.
– Consider using shelving or racks to further increase your storage capacity.
To book a self-storage unit on the Gold Coast, get in touch with Big Box Self Storage today. We have many short-term options available, ranging in size from mini self-storage to complete garage and warehouse units.